Yacht Charter in Cienfuegos
Cienfuegos Charter Yachts
MANATEE
The Lagoon 380 is a stylish and practical catamaran particularly well thought out. Space, volume, light, ergonomics, the warmth of wood, soft upholstery, all these characteristics have been taken into account to ensure you cruise in extreme comfort.
Lagoon 380 - 4 Cabins - 2017 - Cienfuegos
The classically designed Lagoon 380, now newly released for 2017, is a fantastic option for sailing around the white beaches and tropical coastline of Cuba.
Athena 38 - 4 Cabins - Cienfuegos - Cuba
The Athena 38 Catamaran was created for family cruising. It offers all the creature comforts with easy handling, ample accommodations and stream-lined decor.
Lagoon 39 - 4 Cabins - 2016 - Cienfuegos
Head to the inviting warm seas of Cuba on this brand new Lagoon 39, ideal for exploring the island`s coves, beaches and awe-inspiring scenery.
Lagoon 410 - 4 Cabins - Cienfuegos, Cuba
Conceived to meet the highest standards, the Lagoon 410 is innovative and yet maintains the traditions of the Lagoon line from which it springs. Naval architects Marc Van Peteghen and Vincent Lauriot Prévost have optimized the 410s performance while pro
Lagoon 421 - 4 Cabins - Cienfuegos - Cuba
This Lagoon 421 is a bareboat charter yacht for 8-10 guests. She is perfect for a sailing holiday around Cienfuegos, Cuba.

OCEAN SUN
This Lagoon 450 bareboat catamaran charter yacht, accommodating up to 10 guests in 4 cabins and is ideal for sailing vacations and holidays around the British Virgin Islands.
Fountaine Pajot Salina 48
This Salina 48 Evolution bareboat sailing catamaran, accommodating up to 12 people is perfect for your next charter vacation and holidays around Martinique.
PARANA
The Catana 50 sets new standards in both her elegance and space. She has 5 cabins - 4 large staterooms and an additional double berth forward. The aft cabins can be arranged as singles or doubles.
ARAOK - Fountaine Pajot Ipanema 58 - 3 Cabins - Cannes - Monaco - St Tropez - Bonifacio - Porto Cervo - Tortola:
Brand new Fountaine Pajot Ipanema 58 is the perfect crewed yacht to explore the West Mediterranean including the French Riviera, Corsica and Sardinia.
JUST ENOUGH - Custom 140 - 5 Staterooms - Bahamas - Tortola - St. Maarten - Nassau - Georgetown - Paradise Island
Super Yacht JUST ENOUGH is a bespoke 140 motor yacht, offering 10 guests in 5 staterooms the opportunity to cruise the Bahamas like never before.
SCORPION - San Lorenzo 46m - 5 Cabins - Monaco - Cannes - St Tropez - Naples - Capri
Super Yacht SCORPION is a 46m San Lorenzo, which accommodates up to 12 in 5 luxury suites. Experience the Caribbean and Western Mediterranean in unadulterated luxury like never before!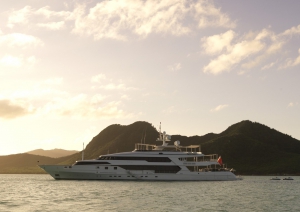 THE WELLESLEY - Oceanco 184 - 6 Cabins - Bahamas - Leeward Islands - Naples - Sardinia - Riviera
THE WELLESLEY is a stunning Oceanco 184 Crewed Motor Yacht and is an extension of the hotel of the same name in Londons Knightsbridge.
NOMAD IV - 30m Maxi Dolphin - 5 Cabins - Cannes - St Tropez - St Barths - Antigua - Cuba
Designed by Finot-Conq, Nomade IV has a sleek waterline with a hull and superstructure built entirely of carbon fibre/Nomex.
Back to Yacht Charter in Cuba, Yacht Charter in Cuba, Yacht Charter in Caribbean Sea